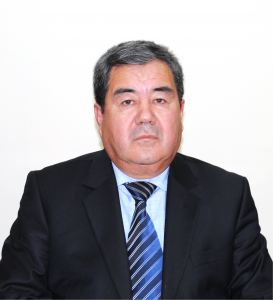 Kurbanov Abduburkhon Kuzibaevich
Kurbanov A.K. graduated from the Sanitary and Hygienic Faculty of Taskent State  medical institute, 1982. The general seniority of 46 years, the pedagogical experience of 33 years.
Candidate of Medical Sciences, Associate Professor. In 1994 he defended his thesis on "Hygiene of application, toxicology of new zellek herbicide and its hygienic standardization in the air of the working area". Scientific advisors Professor Tashkhodzhaev P.I., Associate Professor Musamukhamedov S.R.
Currently, Associate Professor Kurbanov AK conducts scientific works on the topic: "Cytogenetic and cytomorphological methods of studying the effects of pesticides." He is the author of more than 67 scientific articles, theses and teaching aids. Kurbanov AK conducts lectures and practical classes in medical biology and genetics at a high pedagogical level, actively participates in the teaching, methodical and scientific work of the department.
Also, he actively participates in the conduct of educational work among students of all faculties of the TMA. Associate Professor Kurbanov AK During the period of work at the academy he showed himself to be a responsible and exacting teacher and a good specialist in his profession. He is respected among the faculty and students.